What can a bench table saw teach you about choosing a website? Plenty.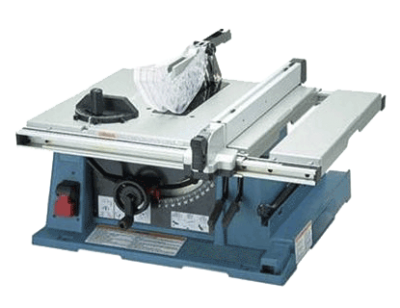 As a wood products manufacturer, you would never choose a tool based on price alone. You would consider many factors like efficiency, reliability, longevity and return on investment. You would research and evaluate the options to ensure the benefit to your business. You know that investing in the right tool will increase efficiency, sales and profitability.
In this article, you'll see how all tools, including websites, are not the same. Choosing the right tool will have a positive impact on your bottom line, while choosing the wrong tool will result in lower productivity and profits.
Let's consider a bench table saw. Would using one of those saws as your primary saw help or hurt your business? A bench table saw can perform most basic operations of an industrial table saw. They can rip, crosscut, mitre, dado, and rabbet. And these saws are very inexpensive, so you're not shelling out lots of cash. Then why would you invest in a Martin or Altendorf sliding table saw when a small, inexpensive saw can do? Because they have many significant shortcomings.
the single phase motor is noisy, small, and inefficient
it takes much longer to rip lumber, especially material thicker than 4/4
its light weight and size make it unstable
its lighter-duty bearings won't stand up to continuous use
its reliability and accuracy negatively impact quality
While a bench table saw may be fine for homeowners or job site use, it could never handle the demands of an industrial manufacturing environment. It wasn't designed or built for that.
Low-priced tools have high long-term costs
Just like the bench table saw, many low-priced or "free" website platforms appear to be able to do everything their professional counterparts can do. But an informed buyer examining these low-cost platforms will see that they are woefully under-powered and inefficient, and they can never handle the demands of a manufacturer's website. While their upfront cost may be small, their unreliability and tremendous inefficiency results in low productivity, which means very high long-term costs. Those websites rarely serve your customer's needs, and that could mean lost sales.
As a manufacturer, you know that the success of your company is related to production efficiency and product quality, and how well you serve your customers. That's why you need to invest in the right tool for the job – whether it's industrial manufacturing equipment or an industrial-grade website. Prospective customers will judge you by your website design, content, performance and the user experience.
For a business website to be an effective sales tool it must:
be reliable and available 24/7
be fast and easy to navigate
have powerful searching capabilities
provide complete, detailed product information
deliver large quantities of content efficiently and consistently
serve as a resource for your current and prospective customers
be optimized for search engines
Invest in a quality tool
When considering a business website, take your time and do your research, just as you would with any tool purchase. Learn about the professional level platforms that are available, and try to compare apples to apples. Before deciding on a web development company, be sure to ask questions, know exactly what you're getting, and make sure it's the right tool for your wood products business. Rarely do the one-size-fits-all tools solve more problems than they create.
Working with a professional web development company that knows the wood products industry and takes the time to understand your individual needs, means you'll get a website tool that will work for you and your customers. Remember, it's important that your website contributes to your bottom line just like every other tool you own. The money you invest in a quality tool will be returned many times over through years of reliable service and increased productivity.
Learn why manufacturer websites need to be product intensive.

Read more

.