Uncover the hidden profitability of your indirect customers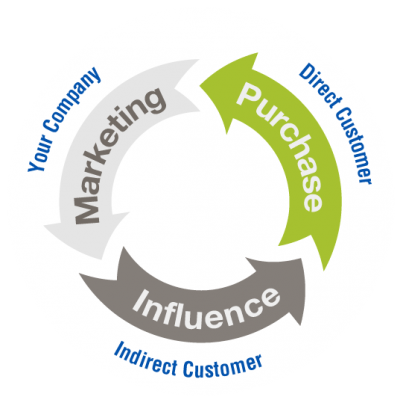 You may not realize it, but marketing to your indirect customer may have a significant impact on the purchasing decisions of your direct customer. Whether you're a cabinetmaker, millworker, furniture maker, or lumber company, you may have indirect customers who can help increase your sales.
Let's start by defining direct and indirect customers:
Direct customers are those who actually purchase your products.
Indirect customers don't purchase your products, but they can have an outsized influence on those who do.
Once you have identified your indirect customers and figured out how to communicate with them, you can begin to leverage them to grow your business.
How targeting indirect customers grew my business
Here's an example from my days as a business owner in the wood products industry. In those days, I sold mouldings, doors, and millwork. My direct customers were building contractors – residential, commercial, and institutional. While I did market to contractors, I found that they were not the best target for my efforts. I discovered that marketing to my indirect customers – architects – proved far more profitable. Why? Because when architects specified my products in their blueprints, contractors were more likely to buy from me.
By marketing to my indirect customers, I also gained four unexpected and valuable benefits:
Enhanced credibility
Having my company and products named in blueprints gave me legitimacy. My company was associated with some very well-known architects, and their trust in my products increased my credibility.
Market expansion
My products were appearing in projects in many other states. Suddenly I had sales in markets that would have been difficult to capture otherwise.
Greater visibility
Every blueprint specification increased awareness of my company with contractors to whom I was previously unknown.
Increased sales
Being specified in blueprints resulted in getting a higher percentage of those jobs. Builders know that top architects don't want their product choices changed.
Big brands market to indirect customers
Most large national wood products companies like Andersen, TruStile, or Merillat market to both their direct and indirect customers. One smart way they reach their indirect customers is by devoting entire sections of their websites to helping them with their specific needs:
Homeowners find help with design, planning, and inspiration.
Contractors find detailed product information, installation guides, and care and maintenance instructions.
Designers find design tools, product documentation, and customization information.
These companies know that every marketing interaction with indirect customers will strengthen the connection to their company, build product loyalty, and influence the purchasing decisions of their direct customers.
How to find your indirect customers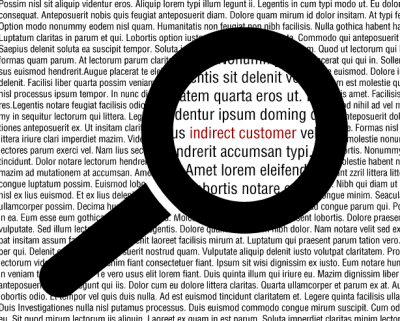 Identifying your indirect customers may not be easy or obvious. Don't just look in your core market or industry; consider opportunities in other segments and industries. Brainstorm, be creative, and look for tangential relationships.
A good starting point would be your customer's customer. If your customer is a builder, a homeowner would be their customer. Homeowners hold a lot of sway with their preferences, and builders will find it hard to go against their wishes.
You might find indirect customers in other trades, even in other industries. An architectural ironworker, for example, could make a strong recommendation for you to a general contractor needing to source a specialized product, like Ipe, for their project.
And think about design professionals like architects, kitchen planners, and interior designers who may be good indirect customers. Their confidence in your company and products carries considerable clout.
Capture profits through your indirect customers
Don't underestimate your indirect customers' ability to positively impact your sales. They can play an important role in influencing the purchasing decisions of your direct customers. When it comes to marketing, sometimes your indirect customers are your most profitable targets. When you tap into the power of your indirect customers, you can expand into new markets, gain credibility, increase your sales, and grow your business.
Connect to your customers through content marketing.

Read more

.