6 reasons why email marketing should top your list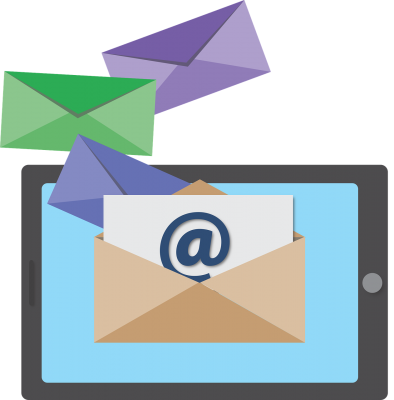 If you're like most business owners, you'd like to get more sales. You may have heard the saying: "Sales keeps you in business, marketing keeps you in sales," but you may not even know where to begin with marketing. Especially now, because there are so many competing marketing options: direct mail, search, mobile, event, content, social media, video, webinars, etc., etc. The choices are overwhelming.
Fortunately, there is one very good option, a tried and true performer – email marketing. It's not the newest "shiny object," but it has a formidable track record for effectiveness.
In this article, I'll give you 6 compelling reasons why email marketing should be at the top of your list.
1. Email is how businesses communicate.
Sure, there's LinkedIn, Twitter, and Facebook, but not everyone in business is active on social media. Everyone has an email address though, and that means your prospects and customers are just a click away.
2. Email marketing is measurable.
The old adage about advertising and marketing goes, "I know that half of my budget is wasted, I just don't know which half." There's not much point in investing in something that doesn't produce results. With email campaign tracking, you get very accurate information about what works.
Email service providers like Constant Contact and iContact make it easy to see who has opened your email, at what time, which links they clicked, and how many times they viewed your email. This valuable information lets you see what's working and what isn't, enabling you to adjust your marketing message as necessary.
3. Email marketing is very inexpensive.
When compared to other marketing options, email marketing is extremely cost effective. With no printing or postage costs, you can send your message to 100, 1,000, or even 10,000 people or more for very little money. With its good R.O.I., it's no wonder that email marketing has continued to be a top tactic for business-to-business (b2b) marketing.
4. Email marketing is effective.
As you can see from the chart, email marketing is the most effective digital marketing tactic. It's a great way to maximize your marketing efforts, and is one of the best ways to maintain relationships with existing customers and to build trust with new prospects.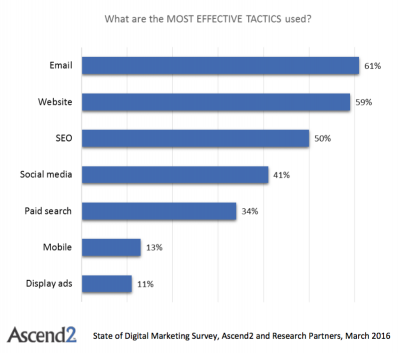 5. Email messages can be targeted.
With email marketing, you can target customers by type, location, position, purchases, etc. You can tailor your message, and send information that is meaningful to your target audience. The more you target your message, the more effective it will be.
6. Email is read on mobile devices.
More people are using smartphones and tablets than ever before. In fact, more email is read on mobile devices (55%) than on desktop (19%).(Source: Litmus 2016.) Email marketing can reach customers wherever they are, and that's important to delivering your message.
If you can do only one thing…
With so many marketing options available today, it can be overwhelming deciding which to use. If you can only handle one tactic, email marketing would be the smart choice. It's measurable, inexpensive, effective, and it delivers results. It may not be the sexy newcomer, but it's still a powerful workhorse. Email marketing deserves a top spot in any company's marketing arsenal.
Connect to your customers through content marketing.

Read more

.